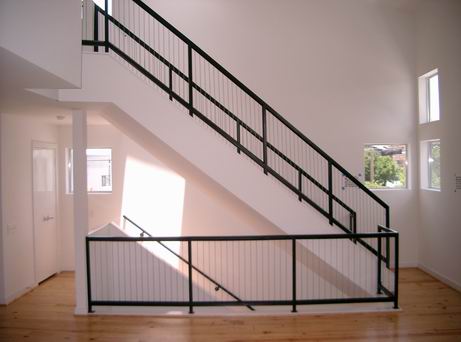 We want you to be satisfied with your new Urban Lofts Townhome. Our goal is to have your home clean, complete and ready to move into on closing day so that your move-in will be as stress-free as possible. We value your business and would appreciate any customer referrals.
About a week prior closing, we meet you at your new townhome. At this time, we answer all of your questions and fill out a pre-occupancy inspection report. As we walk through the townhouse together, blue tape is used to mark any areas of paint or cleaning that need attention. We also schedule a sign-off meeting with you at this time.
At this time, we'll also provide a checklist of utilities and public services, a list of major contracts and their telephone numbers, and a copy of our limited, one-year warranty.
Click one any item below for specific information about your new Urban Lofts Townhome.
Air Conditioning and Heating Unit
The heating and cooling system in your home will provide you with many years of comfort if given proper care and maintenance. Your four-ton unit, which will supply plenty of heating and cooling power, is on a three-zone, electronically dampered system, with a separate thermostat for each floor. A computer tells the damper how much to open and close depending on how you set it. We recommend that you check and replace air filters approximately every 30–45 days for optimum performance, as dirty filters can reduce efficiency by 50 percent. There are filters on all three levels.
Your air conditioner has two drains, a primary and a secondary one. If the first one backs up, the air conditioner will begin draining through the second one, which is visible, usually from an upstairs window. If this occurs, you will need to have your unit serviced or clean it out yourself. If you pour a cup of bleach into the overflow drain once a year to keep it clean and mold-free, you will minimize backups.
Your unit is manufactured locally by Goodman Manufacturing and carries a five-year warranty on all parts except the heat exchanger, which is warrantied for 20 years. Extended warranties are available through the subcontractor.
We give you emergency telephone numbers for your service company where, in most cases, someone is on call until 9 p.m.
Alarm System
We pre-wire your alarm system at all accessible doors and windows, as well as for monitors, motion detectors and glass-break detectors. Your first floor and master bedroom are prewired for a keypad that operates your alarm system.
Appliances
Your townhome comes with a gas range, dishwasher and garbage disposal. In most cases, all of these appliances are manufactured by Whirlpool. Upgrades are available on all appliances.
Range: Your range is gas and is warrantied for one year through Whirlpool. If you need to call for service, be sure to have the model number and serial number available. Like your gas furnace, the range has no pilot lights—it uses electrical ignition on both the burners and the oven. The oven is self-cleaning; when you are using the cleaning cycle, it heats up to 800 degrees, and you won't be able to open the oven door until it has completed the cycle.
Microwave: The microwave is fully programmable and comes with a turntable for more even cooking.
Garbage disposal: We will show you how to use your garbage disposal, including where the reset switch is located. Always use plenty of cold water when running the disposal and allow the water to run a minimum of 15 seconds after shutting off the disposal.
Optional appliances: You may also purchase a 25.2-cubic-foot side-by-side refrigerator, an automatic washer and dryer, an under-counter trash compactor and a two-quart hot water dispenser through Urban Lofts Townhomes.
Cabinets
Our standard cabinets come in white and feature pull-out drawers. Upgrades are available on wood cabinets. We recommend products such as Liquid Gold and Old English Furnisher Polish and Scratch Cover used no more than once a month. Avoid paraffin-based spray waxes or washing cabinets with water, as both will damage the luster of the finish. If hinges catch or drawer glides become sluggish, a small amount of lubricant will improve their action. Use graphite rather than WD40.
Cable
Your townhome is fully wired with RG-6 (high-speed) cable throughout the house. Your cable company simply needs to connect to it.
Ceiling Fans
The ceilings in certain rooms are prewired for ceiling fans. Ceiling fans are provided by the buyer.
Doorbell/Intercom
The doorbell chimes on the second floor in all lofts. Some lofts are equipped with an Intercom system, which will allow you to speak to the person at the door on your telephone and even release the entry gate using the telephone keypad.
Electric Garage Door Opener
All homes come with a garage door opener as a standard feature.
Electrical Outlets
Some electrical outlets are half-hot, which means that one of the plug-ins is operated by the wall switch. That way you can turn on your lamps when you enter the room.
Electrical System
The master control panel that contains the electrical breakers for your home includes a "main" shut-off that controls all the power to your home. In addition, individual breakers control the separate circuits. We will show you where your master control panel (fuse box) is located and give you a number to call for emergency service in case your main breaker goes out.
Each breaker is clearly marked to help you identify which breaker is connected to which major appliances, outlets or other service. Should a failure occur in any part of your home, always check the breakers in the main panel box. Circuit breakers have three positions—on, off and tripped. A tripped breaker must first be turned off before it can be turned back on. Breakers will often trip due to overloading the circuit by plugging too many appliances into it, a worn cord or defective item, or operating an appliance with a high voltage requirement. The starting of an electric motor can also trip a breaker. If any circuit trips repeatedly, unplug all items and reset.
Foundation
The foundation of your home has been designed and installed in accordance with the recommendations of our consulting engineers. A structural engineer designs your foundation based on a laboratory analysis of the soil at each site and recommendations from a soils engineer. This report is used to determine the depth of the piers and footings, the width of the footings, and how much steel is used in them.
In Houston, the engineers take into account the clay soil and extremes of weather. In Dallas, an engineer inspects each site, and multiple 20-foot-deep borings are taken in the foundation pad location.
It is important to maintain uniform moisture conditions in the soil around your home, including proper drainage away from the house. Drainage ditches (swales) have been provided to make certain water drains away from your home and off your lot to the street. Be careful to keep these free of soil or anything that will prevent drainage. If this is not done, one section of your foundation will move more than others. This generally does not damage the foundation, but the walls and Sheetrock may crack.
In the case of drought, it is important to water evenly, but not to excess, around your entire foundation to minimize soil contraction. The watering, when required, should be done every two to three days rather than heavier, less frequent watering.
Jacuzzi Tub
Some of our floor plans have a jacuzzi tub in the master bathroom. We show you how to use your Jacuzzi tub. The on-off button is a pneumatic switch located on the side of your tub. Additionally, there is a ground fault circuit interrupter set to 1/500th of a second. The breaker for the Jacuzzi bathtub is, by law, not reachable from the tub. Yours is located in the water closet. Use crystal dishwashing detergent periodically to clean out your Jacuzzi jets and lines.
Major Contractors
At your orientation and inspection, we'll provide a list of our major vendors and their telephone numbers in case you need to request customer service. You may also call with questions on care and maintenance, to request warranty service and in case of emergencies.
Plumbing
If a major plumbing leak occurs, the first step is to turn off the supply of water to the area involved. This may mean shutting off the water to the entire home. The main water shut-off and main sewer clean-out are located where they can be accessed easily. In addition, the plumbing contractor has someone is on call seven days a week. Our warranty, however, does differentiate between emergency and non-emergency calls. It is considered an emergency when you have an uncontrollable, unstoppable water leak, total blockage of water or sewer, and any gas leak.
If your home is heated at a normal level, pipes should not freeze at temperatures above 25 degrees Fahrenheit. Heat should be set at 65 degrees if you are away from home for an extended period of time. During cold weather periods, garage doors should be kept closed to protect plumbing lines that may run through this area.
Postal Service
We provide you with the telephone number of the U.S. Postal Service. Call and start service prior to moving in. In some homes, a mailbox has been attached to the front of your townhome. In our larger projects, mail service is provided at a central, on-site location.
Smoke Alarms
There are smoke alarms in every bedroom and living area. They are wired into the house's electricity and have a battery backup. You should check them twice a year, but they beep when the battery backup gets low.
Stained Concrete Floors
Your first floor is stained concrete with a wax-based finish. Cleaning with a small amount of warm water and a very mild detergent is strongly recommended. Any kind of acetate or paint thinner may remove the wax sealer and discolor the concrete.
Telephone
The telephone lines are all CAT-5 Homerun lines, which provide for high speed and low interference.
Trash
Prior to moving in, please call the City of Houston to set up service. They will drop off a trashcan and inform you of the days they pick up trash in your area.
Utilities and Public Services
We suggest setting up your utility accounts prior to closing to make your move-in go as smoothly as possible. At your orientation and inspection, we'll provided a checklist of utility companies and their telephone numbers:
Reliant Energy Gas/Entex
713-659-2111
Reliant Energy Electricity/

HL

&

P
713-207-7777
Southwestern Bell
800-464-7928
City of Houston Water

&

Sewer
713-224-2500
City of Houston Trash Collection
713-837-9100
Warner Cable
713-462-9000
U.S. Postal Service
800-275-8777
Walls
The interior woodwork has been painted with enamel paint. It is recommended that you wait a minimum of 30 days before washing your woodwork, at which time you may wipe them with a soft sponge and soapy water. The walls are painted with flat latex wall paint and should be touched up with matching paint rather then wiped or scrubbed. We supply a touchup kit that includes wall paint, trim paint, exterior paint, caulking and a small sponge brush. A card it also included that lists the paint supplier's locations and gives the cardholder contractor pricing.
Warranty
Please visit our Warranty page for information and our Warranty Request Form.
Water Heater
All of our water heaters have a 50-gallon capacity. Electric water heaters are located in the garage, and gas water heaters are located in the attic. The water heater is warrantied for five years by the manufacturer. We recommend that you flush it out every 18 months to keep it sediment-free. We set the hot-water temperature, which is adjustable, on 140 degrees, the minimum temperature necessary to allow the dishwasher to operate properly. If you discover that you have no hot water, check the pilot (if it is a gas water heater), temperature setting and water supply valve before calling for service.
Wood Floors
The floors are 1 x 6 inch variable length #1 grade solid red oak, tongue-and-groove plank flooring.
The wood is shipped to the job site and allowed to acclimate to the proper moisture content to ensure the highest quality.
After staining, two coats of polyurethane are applied to produce an exceptional satin finish.
Some shrinkage is to be expected over time and will depend on the temperature stability maintained in the home after move-in. Gaps of up to 1/8 inch can occur under certain normal conditions.
In daily care of wood floors, preventive maintenance is the primary goal. Oil or wax should not be used as it will dull the shine. Water should not be allowed to pool on the surface and should be dried as soon as possible. Wood floors should be cleaned with a damp mop or cloth using NO cleaner of any kind.
Keep in mind that wood is a natural product. It will scratch and damage much like furniture. Spiked heels can be especially damaging.
Using brushy mats outside the exterior doors to clean shoes will help prevent sand and grit from getting on the floor. Use floor protectors on furniture legs and be aware that rubber-backed mats or rugs may damage wood floors over time.